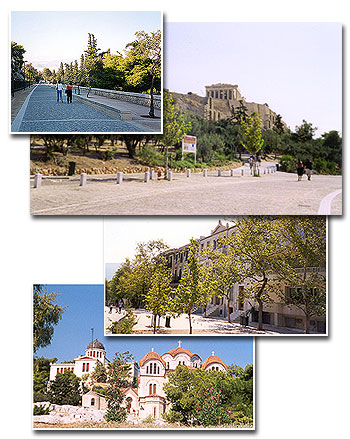 Once upon a time there was a city full of traffic, air pollution and with no space to walk. Nowadays there is a city which provides a vast unequalled pedestrian area, a real oasis of peace and relaxation for tourists and residents alike.
In recent years with courage, willpower and investments many miles of roads have been pedestrianised especially in the oldest parts of the city. Today more than 50% of alleyways in the ancient quarters of Plaka and Monastiraki, all the avenues that go along the Acropolis and some important streets in the shopping centre are closed to traffic and have been effectively pedestrianised.
At the same time all the historical villas have been restructured, the unsightly billboards that for years had been standing on the rooftops have been taken away, new green areas have been added and the historical traces of the area brought back. You shouldn't miss the 4 km long ancient walk that crosses the main archaeological sites, the charming narrow alleyways of Plaka, Odos Ermů and the side streets of the city's shopping centre.