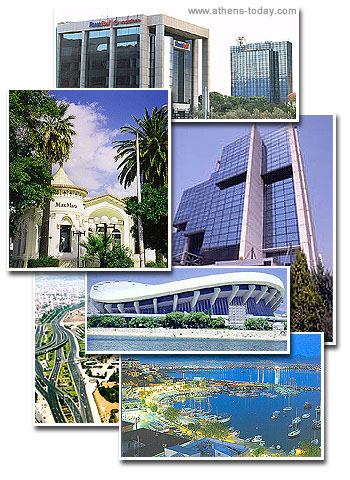 The view over the endless suburbs of Athens is really impressive. The vast sea of light coloured tall buildings placed side by side spreads out uninterruptedly, dozens of kilometres away over the plane of the region.
The suburbs are really much less anonymous than they look from above. The various centres, 71 independent districts, provide a huge and vital variety of both shopping and culture. Every quarter of the suburbs of Athens is like a small town with its own political, cultural and business centre, each very unique. Athens also offers extremely diverse landscapes in the many areas as it stretches out from the sea to the mountains over a large plane.
In the northern suburbs the hilly quarter of Kifissià stands out for its high concentration of trees and for its elegant atmosphere. It is made up of villas of the 1800s, boutiques and fashionable cafès. In the northern suburbs there's also the quarter of Marussi with its spectacular OAKA Olympic Park and the high-rise mirrored buildings. It's a must for those who love contemporary architecture. In the south the attention grabber is the beautiful city coastline from which you can see breathtaking sunsets over the sea. The popular quarters of Faliro, Glifada and Vouliagmeni look onto the coastline, they are chock-a-block with nightclubs, pubs, restaurants, shopping centres, hotels and beaches. They are the core of the Athenian "movida", especially during the long summer season.