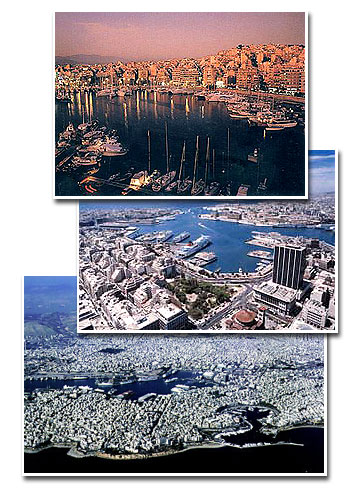 Pireaus is one of the largest ports of the Mediterranean and one of the busiest in the world. 50,000 passengers, 25,000 ships and 16,000 tons of goods pass through each year. It is certainly one of the crucial points of the Greek capital. The lively cosmopolitan atmosphere typical of busy places is enthralling and the continuous flow of people and ships from all parts of the world is disorientating to watch.
Piraeus has been the Athenian port since ancient times. It is made up of various ports which expand in the natural inlets of the Aktý peninsula, situated at about 10km south west of the city centre. The three inlets which house its ports are Kantharos, the biggest that is used as a commercial port, Zea, the middle sized one, used as a yacht marina, Microlimano the smallest and most typical of Piraeus, used mainly by fishing boats and is dotted with cafÚs and fish restaurants.
Piraeus is densely inhabited. It has about 175,000 inhabitants and as in most quarters of Athens, there is a vital autonomous commercial centre, a great night life around the areas of Zea and Microlimano, an important archaeological museum and some sports facilities which will be used during the 2004 Olympics.