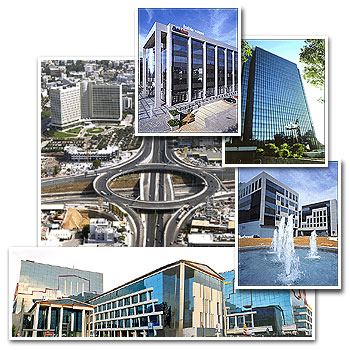 It is one of the main connection roads of the city and it is crossed by some of the most interesting suburbs of Athens. It forms the eastern part of the great Olympic Ring along with other important avenues, such as Vasilissis Sofias, Vasilefs Kostantinou and Singrù.
The avenue leads to the elegant old quarter of Kifissià from which it gets its name. It is a very large and busy road, which connects the north of the city to the south and has some of the most interesting examples of modern architecture of these last decades. It skirts the OAKA, which is one of the biggest and most spectacular Olympic facilities on a world scale and passes through the futuristic area of Paradisos Amarusiou. The feature of this area is its many mirrored buildings housing big businesses. It also has attracted the most famous Greek and foreign architects that have let their imagination lose and presented daring projects for buildings made of mirrors and marble.
On Kifissias Avenue there are hardly any traffic lights, except for 5 crossings, which will disappear in the next few years. It's also one of the main institutional and economical attractions; this is where the seats of the major Greek businesses as well as the embassies and the most fashionable shopping centres are situated.